We often hear about companies reinventing their workplace to increase employee morale. Some of them have an open-plan, glass-only workplace, and some even offer a free breakfast bar. 
Studies show that it's critical that we make an effort to raise employees' morale at work in whichever manner we see suitable. Why? Because raising employee morale has a favorable influence on corporate performance, which will, in turn, improve employee engagement and performance.
We're in an era when 'purpose,' 'values,' and 'contribute' are more important than financial gain. Most of our workers aren't motivated just by the desire to make money; they also want to make a difference. Statistically speaking, there is no denying that low morale is a major problem in the workplace.
But, with half of the country still under lockdown and employees working from home, boosting company morale can become extremely difficult. So, how can companies keep their employees engaged and boost their morale? By hosting a Teleparty, of course!
What Is Netflix's Teleparty? 
Netflix's Teleparty is an extension that works on Google Chrome, Microsoft Edge, and Opera web browsers which was (formerly known as Netflix Party). The best part is that it is free to use! 
Teleparty is a service that allows several people to see the same shows at the same time using their own personal accounts. There's also a chatroom toolbar running the length of the screen on the left side. To 'chat' with your colleagues, comment on a movie or TV program, ask how they are, talk about the weather, offer hugs, or say anything you choose. 
In addition to text, you may send animated GIFs, emoticons, and screenshots. There aren't any audio or video chat choices, but it would take away from the overall experience anyway. 
While there is a limit on the number of people who can be part of one Teleparty section, the number is a whopping 1000!  You may have a Teleparty with anybody in the world, but keep in mind that not every country has access to all the movies in your library. So take that into account while choosing a movie. 
Those concerned about privacy will be relieved to learn that after each Teleparty, all communications are wiped from the Teleparty servers.
How Does Teleparty Work? 
To stream videos with your colleagues while simultaneously starting the movie or TV show you've all decided to watch, you must first install Teleparty and then head to the web version of Netflix Party. You'll be able to watch in real-time with your friends this way.
Teleparty is only compatible with laptops and desktops. As a result, Teleparty is not yet available for usage on iPads, gaming consoles, or your television. Neither Android nor iOS currently supports Teleparty.
On your laptop or desktop, download and install the Teleparty extension for free from the Chrome Web Store, the Edge Web Store, or Opera's respective app stores. To make it easier to discover, you may add an extension icon to your toolbar.
To start a video on the same device, go to Netflix Party in your Opera/Chrome/Edge web browser and start a film, TV episode, documentary, or anything you like. Then enter Netflix.com. 
When the grey Teleparty extension symbol near the address bar in your browser turns red, you may begin the show. To begin a Teleparty, click on it and then follow the on-screen directions in the new window that appears.
You have the option of controlling the video playback yourself or allowing anybody else at the event to do so. To put it another way, it's like putting the remote control out for everyone to use. You'll now have to share the URL with your friends through another pop-up window.
Like an avatar, you'll be given an icon and nickname to represent yourself, which you can edit based on your preferences. Those who are invited must also have the Teleparty extension installed on their browsers. They'll be members of the Teleparty as soon as they click the link emailed to them and then click the Teleparty symbol.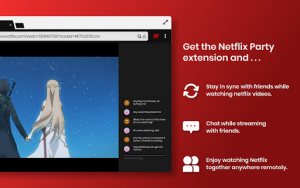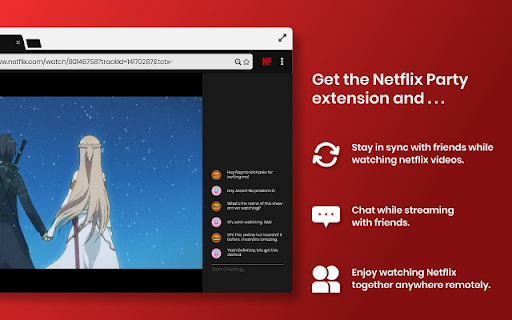 Teleparty streaming in Google Chrome will only be available at a maximum of HD resolution, so keep that in mind. For 4K support, use Microsoft Edge.
Why Hosting A Teleparty Is Beneficial For Your Business
Boost Staff Morale 
Social gatherings have the potential to have a positive influence on the workforce by raising employee morale. When employees have an upcoming Netflix party or outing planned, it shows them that their hard work is paying off and that they are an important part of a firm that values them and appreciates what they do.
It also allows them an opportunity to relax and socialize with their coworkers, which helps to improve their working relationships. Bringing employees together will have a positive impact on their workday and motivate them to form new connections.
Increase Networking
Social activities, like hosting a Teleparty, allow employees to engage with one another and develop new contacts. A relaxing, social setting will allow departments that don't regularly interact to talk and connect with each other. 
This will ultimately lead to improved team cohesiveness and collaboration amongst various departments. Corporate executives will also appear more approachable to the staff since this will assist tear down any walls between them.
Develop a Workplace Culture
Organizing workplace events help to shape company culture, which in turn affects how happy employees are overall. In the end, they portray the business as a warm, friendly place that isn't exclusively concerned with making money and maximizing productivity.
Employers want their employees to feel like a family (or a group of friends) rather than just co- workers since this fosters a passion for the profession and makes the workplace more alive and exciting for everyone.
Conclusion 
To summarize, improving employee morale requires more than a single fast cure. When you take the time to get to know your employees and their motivations, you'll see an increase in your company's productivity.
Virtual event platforms are ideal for a wide range of networking activities. To assist workers in building relationships both personally and professionally, you should consider hosting networking events inside your company. These events may promote internal mobility and help employees find mentors.
Furthermore, hosting a Teleparty is the perfect way to help employees relax after a long week and connect with their colleagues in a social setting.
Author Bio: Mansi Dhorda is SEO and Content Marketing Consultant. She is well-versed in all things SEO, Content Marketing, and Branding. You can connect with her at Linkedin.