If your Alexa application has been acting up, then  take a few minutes to go through this  guide for a quick solution to fix Alexa App Not working. So, here we go!
#1. Restart the Amazon Alexa application
So it is one of the most convenient as well as reliable approaches to start with the simplest solution first.  which means revioting the application.  
When you have closed the application, be sure to eradicate it from the background, as well. It should iron out any bug or glitches responsible for displaying or hanging your alexa application's functionality the majority of the time. Moreover, it is quickly done & takes a minimum amount of time to carry out.
#2. Review the Wi-Fi connectivity
If your Echo device or phone is having trouble connecting to the internet, then it is going to influence your application's functionality. Wi-Fi connectivity requires to be addressed both at the device & the router.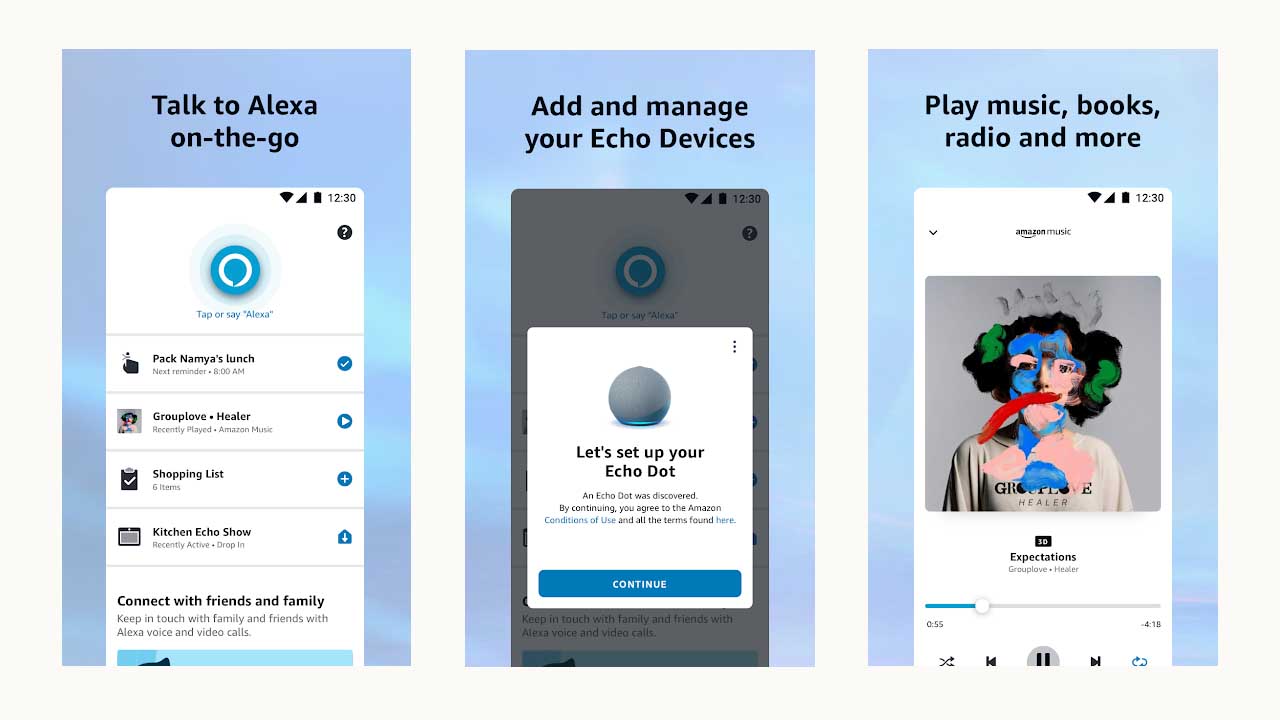 Network name or password changes
You may modify the Wi-Fi network name or password at times however forget to update the devices accordingly, which results in devices or apps acting wonky. So you need to make sure that you update your Echo device to any modification in the properties of the Wi-Fi. 
Update your Echo device by simply logging on to the Alexa application & then choosing the 'devices' heading. When you are done with the instruction, you can select Echo & Alexa, hit the device you desire to update, & tap on the 'change' button that is located near the Wi-Fi network. And lastly, you have to follow all the instructions that comes in the display screen 
Different network connections
Another potential reason why your application might be confronting trouble is that your Echo device & phone are connected to different internet. Here you need to be sure that both your device and phone are using a similar Wi-Fi connection, & your application might go back to working in the normal state. 
Firewall troubles
Something, network firewall can also cause certain problems with how your devices function. Furthermore, it can prevent certain devices from accessing the WiFi channel, or your tablet or laptop. So be sure to check your system firewall in order to see if it's not the main behind your app or phone acting up.
Connection saturation
So, if you have got connect multiple devices to the same Wi-Fi network, the saturation might lead to connectivity issues or slower speeds. In such circumstances, it is the most convenient option to remove any device you don't require to use immediately from the network so that the app you do require to use gets the internet speed it needs to function in the correct manner. 
Range oriented issues
A Wi-Fi range can also influence the internet connectivity of devices, malfunctioning applications, or slow internet speed. So, be sure you place your Echo device on a high location. Simple try to stay away from items such as cordless or phones that can interrupt or affect connection as well as functionality. If that is not possible, then you can try placing the Echo device near your router for good range connectivity.
Restart your phone & device
At times, restarting your phone can resolve glitchy applications. The actual science behind the move is when you reboot  your device, its RAM gets removed, & any fragments that were run previously are done away with. 
Therefore essentially, restarting your phone & rerunning the Alexa application means that you are beginning with a clean slate 
#3. Sign out of your Alexa App
Even after performing all the above fixes, if your Alexa app is still not working. then simply try logging out of it and make it respond. If the app is still unresponsive, you may have to force close it first. 
Go towards the ' menu ' option when the application is running again, & then invoke the 'settings.' Afterwards, choose your name & hit the 'sign out' option.
#4. Uninstall the Alexa app
Uninstalling and reinstalling the Alexa app is another way to resolve the alexa not working issue . You can simply uninstall the app, then reinstall it from the playstore.
#5. Check for Updates in the Alexa app
if you are confronting issues with your Alexa application. Accessing the app store to check for new updates is a great idea. App updates usually take care of any outstanding bug fixes influencing the application's functionality & at times also feature design certain required improvements or extra features.
#6.Factory Reset Echo
Factory reset is the last resort if you still face the same Alexa not working issues 
Generally cases after resetting the Echo, the amazon alexa app not working issue gets resolved. For doing this, you can simply check out the manufacturer guide and fix the issue on your own.
These are the most reliable trustworthy fixes that help you to get rid of the Alexa app not working issues. For further details, visit our official site.