WhatsApp is a Facebook-owned chat application that has vast popularity throughout the globe. According to worldwide reports, WhatsApp has got more than 5 billion downloads on Android devices. You may have noticed the Instagram and other applications in Dark Mode. So, it was quite obvious that WhatsApp would launch the Dark Mode, too. And that has finally happened. The latest Beta version of WhatsApp has launched its Dark Mode. WhatsApp Dark Mode Launched (Download APK 2.20.13)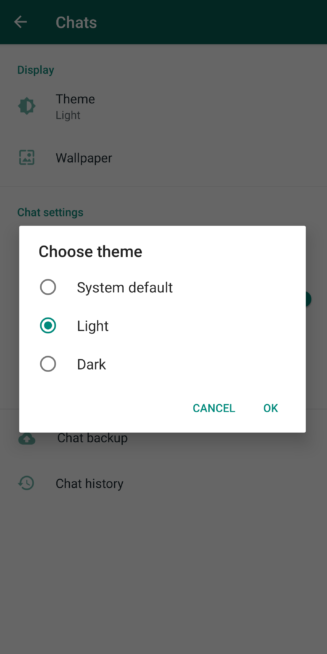 To get benefitted from this classic Dark Mode, you have to enroll the device in the Beta version. Otherwise, it won't work. Firstly, check if you have installed WhatsApp of the 2.20.13 or newer versions. If your Android is running an older version of WhatsApp, you can simply download the latest WhatsApp version from any renowned app store.
Once you have downloaded and installed the WhatsApp application, open the chat client. Next, navigate to the Settings option on WhatsApp. Tap on the Chats option. There you can locate the Theme Selector option. There, you have to tap on Dark Mode to use the feature. 
If your Android device has already Dark Mode enabled, then you need not change the theme to Dark Mode. You can just keep the standard mode on WhatsApp. Just choose System Default from the Theme selector menu. That's it! 
The Dark Mode on WhatsApp doesn't support an AMOLED blackout theme. The Dark Mode is designed to be used particularly at night. It is not that convenient in daylight.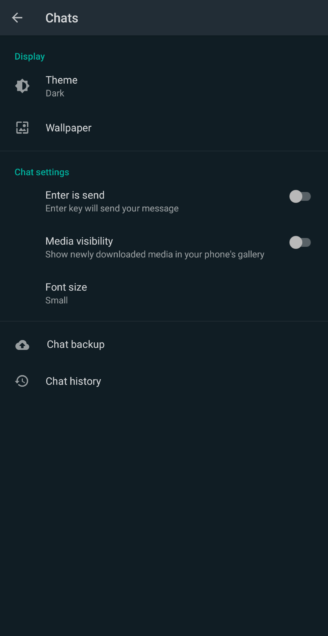 If you think that WhatsApp Messenger gets more priority than Facebook Messenger, due to this feature, then you are probably misled. Because Facebook Messenger has gone to Dark Mode completely, in April of last year.
We will keep looking for the latest updates on the WhatsApp Beta features and this particular Dark Mode. Let's hope for more stable and convenient releases from WhatsApp.