A meta description for a website is the small snippet of text that appears underneath the URL of search results. Since this snippet represents your site, it's important to make sure it's perfect. 
A well-written meta description can be vital in improving your click-through rate (CTR). When a search engine user searches for a given keyword phrase, the search engine will look at your page and its content to try and determine what your page is about. This involves looking at the actual words on your page and also checking to see if it has an appropriate meta description too.
Writing meta descriptions that actually help you rank higher in Google could be the most difficult balance of SEO writing. Not only are they short, to-the-point, and full of keywords, they also need to be enticing enough to click on them.
You should always have a meta description under your title tags. The meta description is 2-3 sentences long, and it is what will display in search results as our "clickbait."
Meta descriptions are an undervalued element of web design. They have a number of uses, and not having one set means that you're possibly missing out on a key ingredient for improving your click-throughs or even how Google displays your page in search results.
No matter what industry you're in, SEO should be a part of your online marketing strategy. Your goal at this point is to get people interested in what you have to say. To do that, you need a presence on Google, which is the most popular search engine. 
The fastest way to get there is with a meta description. Your meta description can be used by search engines to show extracts of text when people search for something that relates to your content. Regular Google users can also click on the snippet and visit your site, which will eventually increase your traffic.
Meta descriptions let you share a preview of your web pages with customers in search results. It's a bit of text that can determine whether a potential customer clicks on your website or chooses to ignore it in favor of another search result.
Want to create the perfect meta description? Follow these seven secrets to create the ultimate meta description. Here's how to write a perfect meta description that will both satisfy search engines and encourage clicks from web users.
Be vigilant about the character limit of your meta description
Meta descriptions are a crucial SEO element that helps search engine crawlers understand your content. They also help convince searchers to click through to your page.
A meta description is the HTML attribute that provides a brief summary of a web page. Meta descriptions are listed underneath the clickable links on a search engine results page (SERP).
Be vigilant about the character limit and keep your meta description concise. A meta description is a text that appears below your URL in the search results. It's also what drives most of the traffic to your site, so you want it to be good.
The character count for meta descriptions is 160 characters, but Google typically displays the first 155 characters. This means that your meta description should be about 155 characters long, not 160.
Be careful about the character limit and keep your meta description concise. If you have already written long, consider rewriting it until you can get it down to 155 characters or fewer. 
Not sure how to count? Using a character counter online will let you know about the exact number of characters (both with and without space). You can keep track of the specified limits and make your meta description perfectly suitable for search engines and users.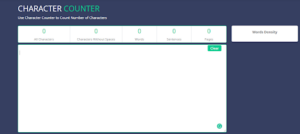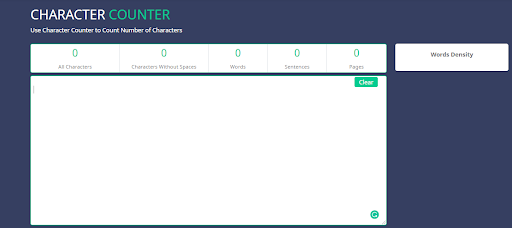 However, you should be vigilant about the character limit and keep your meta description concise. Make sure that you use your space wisely to give searchers the most important information about your page.
Keep meta descriptions relevant to the page content
The meta description is one of the most important seven secrets elements of your on-page SEO. It's an HTML tag that summarizes what your page is about. If you get it right, you can increase your exposure on search engines, generate more traffic to your website, and give potential customers a reason to click.
Although Google will not base its rankings on the meta description specifically, writing a good meta description can help you get more clicks from users who find your site on search engine results pages (SERPs) and increase your traffic. Not only that, but it's also an opportunity to add additional information about your business and build trust with searchers by providing them with relevant information in a concise manner.
The character limit for meta descriptions is 160 characters. There are some debates over whether to include the stop words in the description after 160 characters, but the search engines tend to trim them in any case. So if you have a stop word at the end of your description, and it gets cut off, you're not losing any value by not having it, as Google typically won't show it anyway.
Search engine optimization is a long-term strategy. Each page of your website should target a specific keyword phrase that tells search engines what the page is about. In order to rank, that page needs to have the proper on-page elements such as title tags, meta descriptions, body content, and image alt tags. All of these factors should be relevant to the page content.
Write a unique meta description for each web page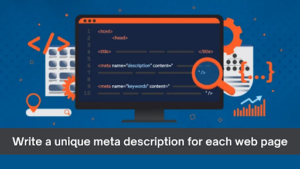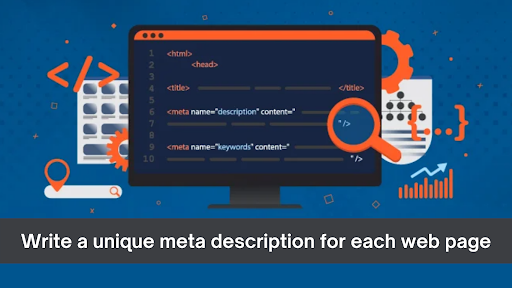 A page's description meta tag gives Google and other search engines a summary of what the page is about. While Google may use this to determine where your site ranks in the results, it's primarily for the benefit of people searching for the required information. A good description helps them decide whether to click on your link or one from another site.
It's a good idea to write a unique meta description for each page that describes the content on that particular page.
Before you publish a page, think about what the page is about and what you want visitors to do when they get to it. Then, write a unique meta description for each web page so that visitors will be able to find what they're looking for.
Ensure that you write a new meta description for each web page. It should be short, encouraging, and relevant to the content of the page. The snippet is a short summary of the content found on the page, so don't try to cram too much in here. As discussed above, aim for around 156 characters or less.
If you have the same meta description on multiple pages of your website, then you will not receive the desired ranking results.
Keep user intent in mind while writing a meta description
The meta description can have an impact on search engines as they take into account user-engagement metrics like click-through rate (CTR) to determine if your snippet is relevant to the users' query. That's the reason it is crucial to keep user intent in mind when you create meta descriptions.
The most important function of a meta description is to persuade searchers to click through to your website from the search results. Because people are reading the description when they decide whether to visit your site, it's vital that you create a compelling description that convinces them to follow your link.
If you don't include a meta description, Google will create one for you by pulling text from your page. The problem with this auto-generated description is that it may not be clear or persuasive enough to get searchers to click through (and it might not look good in the search results).
On the other hand, customized meta descriptions can take care of the user intent and include information that the user might be searching for.
Include potentially good keywords in the meta description
While the title tag is the first line people see when visiting your page, meta descriptions serve as the second line and can help entice more visitors to click through to your site. A good meta description should be under 160 characters and convey what's on the page.
Remember that Google will cut off your meta description after about 155 characters (including spaces), so keep it concise and be sure to use your keywords at the start, if possible.
You can easily find relevant keywords using reliable keyword research tools. Try using keywords that are high in search volume and less in competition. A lot of people use keywords at the end of meta descriptions which is not a good practice to follow. 
Do not repeat the title tag in your meta description
It is true that both meta titles and meta descriptions both go hand in hand. However, they should not be identical. You should try to make the most of these attributes and use relevant but different text in both areas. If you use meta title in the meta description as well, you must be wasting your 65 characters.
Meta descriptions are HTML attributes that provide concise explanations of the contents of web pages. Meta descriptions are commonly used on search engine result pages (SERPs) to display preview snippets for a given page.
When you include a snippet in your meta description, Google will often use it when displaying your page in the search results. While some may think this is unfair, Google's guidelines state that if you provide this content via structured markup, it can be used in search results.
Make it look engaging and tempting 
Meta description is the text that appears underneath your URL in the search results. This is what users see before they click on your site in the SERPs, so this description needs to entice them to click through. Your description should be a short but enticing summary of what the visitor will find when they click on your page.
If a meta description is not engaging or tempting, users will not click on it, and eventually, you will lose a potential lead. If you want to maximize the number of organic visitors to your website, then you have to make metas attractive enough to pull in more people.