Are you on Discord? Want to set discord custom status message? Then, there's nothing to worry about; it's pretty easy and simple. Well, Discord being one of the renowned gaming platforms helps you to communicate with other professional and non-professional gamers across the world. You can send messages, opt for voice chat or even connect through a video call to the other players who directly want to join the server. Moreover, it comes with a plethora of advanced features, and custom status is one of them.
Basically, Discord's custom status is nothing but an eye-catching message which is mainly dedicated to the other players. This helps gamers to increase the number of members who can join their gaming servers. You can customize this personal status whenever you want, you just need to implement a few basic steps, that's it.
When you will get into the Discord custom status section, there will already be a presence of a few basic options. This mainly includes, "Do not Disturb", "Online", "Idle" and "Invisible" — these default options can be used by every enlisted player.
Also Read: Discord won't open? Every User Should Know how to Fix Discord issue
Moreover, when you will choose one of these options, automatically, the status dot will be shown at the end of the profile picture. But, you can also configure the custom text status using emoticons to showcase what you are doing or how you are currently feeling.
Now, let's directly move to the step-by-step guidelines on how to change status on Discord, on Windows or Mac, Android, or iOS devices.
Change the Discord Status Message through a Windows or Mac Device
If you are accessing this online platform from a PC or laptop, and wondering how to change status on Discord, then initially, you have to log in to the account. And, of course, for that, you have to open a web browser in the first place. Right after that to change Discord status, consider sliding into the official website of Discord. And, the best part about this application is that it comes with an easy interface for both Mac and Windows users.
Consider providing a suitable Discord custom status, because every user, associated with this platform, will be able to see the updated message. Whether you are using the desktop app or the website, simply, follow these below-mentioned instructions to change Discord custom status:
After logging into the Discord account, look out for the section where the username, profile icon, and current status will be displayed.
Head towards the profile icon and go through the available list of the default statuses to tap on the preferable one.
Additionally, you can also tap on the "Set a Custom Status" option to write the Discord status message.
Once you are done with setting the status, it will automatically get enlisted under the Discord channel lists.
Now, it's time to set a time limit for the provided Discord status message.
Note: You will be provided with four options to choose from: "Never," "1 to 4 hours", "Today" and "This Week". Go for the right one and don't forget to tap on that promptly.
Tap on the "Save" option when you are done with giving suitable Discord custom status.
How to Add Emojis in the Discord Custom Status?
Are you fond of emojis and want to add that to the Discord custom message? Then, you can easily get that from the custom status icon, or opt for using the standard Discord emoji, for better convenience.
You can change Discord status within a minute, and sometimes it might automatically get changed. For example, when you will get into the Discord account after a gap of a few days the status will automatically appear as "Idle".
How to Set Custom Status on Discord in the Android and iOS Devices?
Obviously, the steps to change the Discord custom status on Windows or Mac will differ on the other operating systems. Be it Android or iOs, you have to completely apply a different set of instructions to make the Discord status message visible, on this global platform.
However, start with tapping on the Hamburger menu after opening the application to add it to the required gaming channel list. Right after that, consider following these eyes-to-access steps in the Android, iPhone, and iPad:
Slide into the user Profile icon and search for the "User Settings" in the first place. Technically, User Settings is for customizing the Discord account as per the user preferences.
For setting a new Discord custom status, move to the "Set Status" section next.
Wait until a pop-up menu appears on the screen with the variable list of the status options such as online, idle, do not disturb and invisible.
And, if you want to add something else, go for the "Set a Custom Status" option instead.
Simply write an interesting message over there and add a suitable emoji; it will absolutely go with that. Now, the Discords can see the provided Discord custom message under the username section.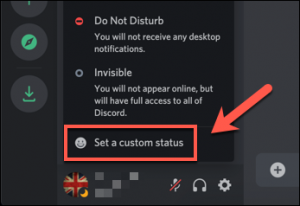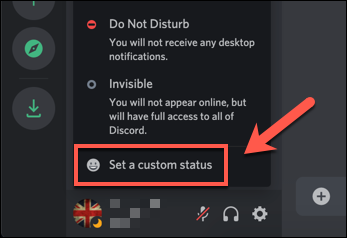 Under the Discord status message, you will be given four options, to pick an estimated time period to keep the status. Pick amongst — 30 minutes, one hour, four hours, or until tomorrow — tap on the right one to proceed further. And, if you want to keep the recently given status forever, don't forget to tap on the "Don't Clear" option.
Haven't you clicked on the "Save" button yet? Then, tap on it so that other players can check them immediately. Voila! Now, add a server, send requests to other players and play the most popular online games via Discord.
What Does the Different Default Discord Custom Statuses Indicate?
By now, you must have changed Discord status, but if you have opted for the default ones, it's important to acknowledge what they actually mean.
Idle
Technically, the "Idle" status simply means, the user is accessing Discord from a PC or web browser and at the same time hasn't opened for a long time. Moreover, if you frequently use this platform, then you are probably aware that you will see "Idle" instead of the online or offline message.
In this context, it's worth mentioning that an Idle status mainly appears when the user fails to log out properly. You must be familiar with the most used term "AFK " (Away from Keyboard), Discord's Idle status simply indicates the same thing.
Online
Are you viewing a green circle under the username section? This simply indicates that you are using Discord currently. And, this will help the others to add you to the gaming servers after coming online
Do Not Disturb
When you will change the Discord custom status into "Do not Disturb", then a red circle will appear under the customized avatar. This simply means that you are not currently available to join the server or for playing online games.
And, with the help of this option, you can disable the unwanted desktop and push notifications. Do you get plenty of game requests or messages? Simply, switch to the "DND" status, this will be helpful.
Invisible
Lastly, comes the invisible option. This helps the users to access Discord while being offline. However, when you will write a message directed towards the players, it will automatically emerge as "typing" even if you get into the "Invisible" mode. That's it! If you are still unable to change the status, consider professional help.