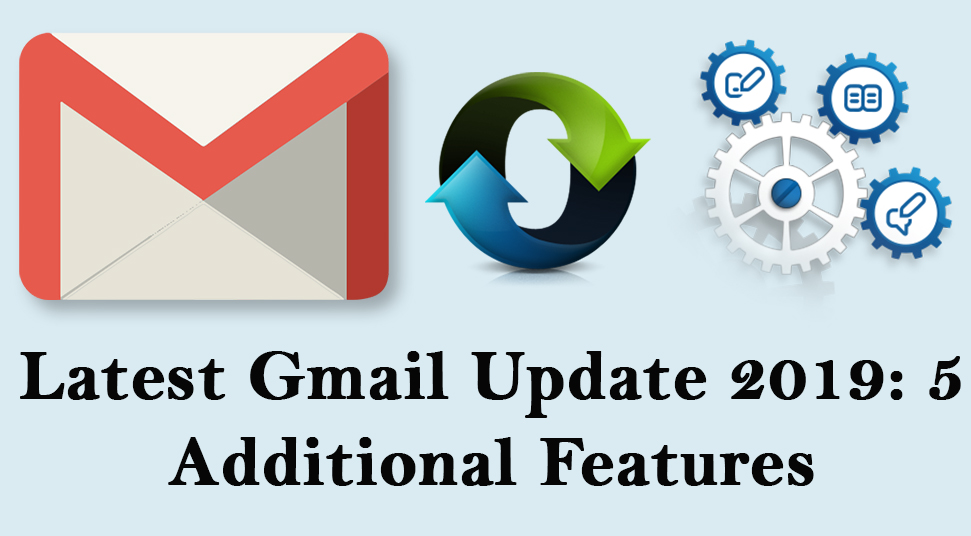 As we all know, Gmail is the world's largest email service provider recognized by Google and adopted by nearly 1.5 million people globally. Google platform has evolved a lot since 2004 and accommodates the users to save an adequate amount of emails in it. Apart from that, it is pretty convenient to search for messages in the Gmail inbox as well. However, it demands regular updates for additional features. Here is what you can expect from the Latest Gmail Update in 2019.
Actions on Google Messages
The first and foremost benefit you can perceive from the latest update of Gmail is taking action on google messages without even opening it. This means, all you have to do is point your cursor to the email received, and with just that, various options like Archive, Delete, Mark as unread or Read and Snooze will appear on your screen.

Archiving email means, the message is hidden from your inbox and is quite a useful assistance for tidying it. The regular delete feature is available, and you can delete an email if it is a spam or not relevant. You can also mark your email read or unread with just one click. It is as simple as that. Also, you can switch its status from read to unread and vice versa whenever required with the same process.

Snoozing emails is similar to snoozing alarm. With this action, you can postpone emails and can remove the email temporarily from the inbox. However, your email will come back to your inbox when required which may be tomorrow, next week, or next month.

Also, you can discover all these emails anytime in the snoozed section of your account. All these actions can be accomplished by just one click.

Postpone Emails
Apart from that, you can postpone the emails to some other date or delay it to a date which is suitable for you. Hence, with this feature, you can easily suspend emails which are not necessary for you or are acknowledged as spam.

Smart Reply Suggestions
One of the best features which got incorporated in Gmail is smart reply suggestions. This is quite a relevant feature as it can save your time for analyzing appropriate replies. Thus, they will help you by providing relevant phrases for related emails.

Suppose you got an email from a company regarding an interview. In that case, Gmail will generate replies itself for you, all you have to is click on the desired response according to your preference. Smart Reply Suggestions is an effective feature for a quick reply.

Furthermore, whoever is new to these services, the emails will appear on their inbox with already generated replies correlated with it.
Customization of Gmail Inbox
Apart from that, you can also customize the Gmail inbox according to your choice. This implies you can expand or shrink the inbox according to your inclinations. For this, all you have to do is choose the Display Density option from the settings.

Once you choose the default option from the settings, the preview of the attached emails will appear on your inbox. Additionally, Gmail users can collapse or show menu whenever necessary.

This feature is considerably valuable when the space of the inbox is relatively less. To preview the email, all you have to do is shrink or expand the inbox with the help of the menu button.

Google Suite Services
In addition, one of the conventional features of Gmail is the integration of Google Suite OS services. This involves applications like Google calendar, tasks, and add ons while you are still on that platform.

Gmail users can protect sensitive messages as well as documents by keeping access to confidential mode. This means it can prevent forwarding, downloading, copying as well as pasting of the emails.

Moreover, you can also set a passcode as well as an expiration date. However, this feature is only available for GSuite customers.

Summing-up
Gmail is a pretty common email service which is used by virtually everyone. However, its modernized version involves various additional features like actions on emails with the help of just one click.

This implies you can delete, mark read or unread, snooze, or archive emails in your inbox. In addition, you can postpone emails and delay it to further date or as per your convenience. You can also generate smart replies which are generated automatically according to the mail you receive.

One of the best additional features of Gmail is that you can customize the Gmail inbox according to your preference. You can expand or shrink the inbox accordingly by just selecting the display density options from the settings. Also, you can avail Google Suite services while still staying on the platform.

Furthermore, you can protect sensitive messages as well as prevent forwarding, copying, pasting and downloading of the emails without any issue. Gmail has become a necessity in today's world and its new update is quite a hit with exalted additional features.