Over the festive period, we tend to spend extended periods of time in our homes, notifying us of issues within our spaces. As a result, the new year is often a time in which we look to improve our homes. While some take this to the extreme, carrying out projects that require PASMA training and planning permission, the changes don't have to be this drastic. In fact, making simple changes to singular rooms might be all that's required to completely transform your space. When considering just how much time we spend in our homes, it goes without saying that we should keep them in the best condition possible. 
Detailed below are some of the most effective home improvement ideas that you can employ in the new year for a fresh start. 
Happy Colors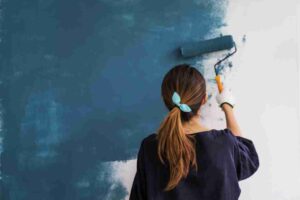 First up is one of the cheapest investments on the list. Though painting your walls tends to be relatively inexpensive when compared to other, more drastic changes, it's still one of the most important home modifications. Colors help you incorporate your identity into your living space, contributing to your home's image and affecting the well-being of inhabitants and visitors alike. In order to achieve the perfect balance of color in your home, it's a good idea to paint walls to match furniture or vice versa. From this, you can then go about selecting appropriate decorations to create a happy and comfortable balance. 
Light Upgrade
Upgrading the lighting system in a property is one of the most effective ways of transforming a space. Similarly, it doesn't have to be an overly expensive investment to make a difference. You don't even have to touch the light fittings themselves; you could simply incorporate a few more lamps or bulbs to create a new dimension and add a sense of luxury. 
2023 is one of the best times to do this, as the rising energy bills mean homeowners are looking for more energy-efficient ways of lighting their homes. For instance, DIY ideas are some of the most innovative ways of keeping your energy bills at an all-time low. 
Bathroom Update 
Making changes to your bathroom can help you craft a relaxing and peaceful space. Additionally, since bathrooms are used daily, it's important to ensure that all the essential elements are functioning properly. One of the most essential feelings that you want to create within a bathroom space is warmth. This can be achieved via the incorporation of candles; not only does this make for a more relaxing and comfortable ambiance, but it keeps your bathroom smelling fresh. You might also add a plant into the space to make it look more modern and break up the appearance of tiles. 
Kitchen Update
As with the bathroom, the kitchen is used daily, meaning that it has likely seen better days. It's likely that your kitchen will not only need sprucing up in terms of its appearance but also its functionality. For instance, your cabinets will likely be tired with wonky handles; you can make a significant change by switching out the knobs. While it may sound like an impossible task, you don't actually need a professional to fix your cabinet doors; a quick tutorial, and you'll be able to do it all by yourself. 
Floor Upgrade 
Last but not least is the floor, which has a massive impact on how your home is perceived. Not only do you want to create a warm and cozy atmosphere, but you also want to ensure your flooring is easy to clean. The right flooring can make your life a whole lot easier.