Selling a product or service through videos is the latest digital marketing trend. Almost every business has now adopted video marketing as its main element of digital marketing. These videos are available in various formats, but the most successful type of brand videos are animated brand videos. 
Not only do these videos engage the views, but they efficiently put the idea behind your brand. This leads to increased recall and brand awareness
From highlighting critical details to inspiring potential buyers to make a purchase, animated video has the potential to take any business to its next level. 
Here are a few stats to showcase what animation can do for brands
Stats
As per Marketing Sherpa, a brand video attracts 300% more traffic than regular content.

A perfectly produced whiteboard animation video can have a

68%

better return on investment than Google Ads. 
Animation has never been easier due to the increasing differentia and so many businesses using it for advertisement. However, if you find the right video production company to create bespoke videos for your brand, there is no going back.
Here are a few reasons to involve animated videos in your business marketing strategy.
Just like childhood cartoon characters, animated videos are hard to forget, especially when used to tell a story. Brands can take advantage of storytelling with 3D animated videos to market their product or service most engagingly.

Another reason why animated videos work for businesses is that brands can include their personality by using specific color schemes and text to extend the marketing material.

Animated videos help in SEO if optimized properly. Most YouTube videos are created using animation to build awareness.
Types of Animated Videos for Business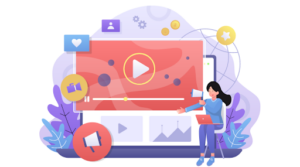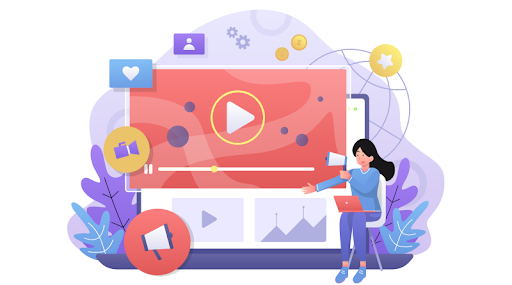 2D Animated Videos
Animation created in a two-dimensional graphical environment is known as a 2D animated video. These videos are also known as traditional animated videos where creators use cartoon characters and stories to elaborate a brand's vision. The Simpsons are the best example of a 2D animated cartoon.
3D Animated Videos
An updated and most popular version of modern animation, 3D animated explainers are among the favorites of brands. The technique includes frame-by-frame characters moving in a human-like environment. 
There are hundreds of 3D software available to create 3D characters for your business. Medicine, real estate, and TV commercials are so popular industries where 3D animated videos are being utilized for advertising. Toy Story and Frozen are some examples of 3D animated work.
Stop Motion Animated Videos
A video-making technique in which objects are moved in installments and photographed to showcase in a rapid sequence. This type of motion video is mostly used with text and product demos to present information and features of a product or service.
Whiteboard Animated Videos
It includes moving artwork on a white surface, where creatives showcase a product, explain a service or just lyrically showcase the benefits. 
Whiteboard explainers bring text and drawing to life by creating movement digitally. The white surface remains constant and the artwork keeps changing with the voiceovers in the background. There are hundreds of online tools and software available to create whiteboard explainer videos.
Infographic Animated Videos
Just like its name, this type of video is created to present information engagingly. And what is better than animated characters, providing useful information to your potential buyers. 
Combining colors, characters, text, and sounds, infographic animated videos are a great fit for social media marketing. Not only do they visually attract users, but help them take action to explore your product or services.
How to Create Animated Videos for Your Brand? 
Now that you understand the major types of brand animated videos, you need to have a strategy to create successful animated videos for your business. Keeping the short attention span of users in mind, animated videos need unique ideas and highly advanced graphics. 
Regardless of if you are doing it yourself or hiring professional animation professionals, here are a few things to consider while creating animated videos for marketing.
Create a Script
Once you have an idea regarding how you want to reach your customers, you need to brainstorm ideas as much as you can. Note down all your ideas on paper, and create a sequence for starting a video brief.
Channelize your imagination and combine it to create a rough draft on paper. Once done, you can edit the script and make it crisp to keep up with the marketing strategy.
Tell a Story
Based on your first draft, you need to create a short and engaging storyline to keep the viewer interested. Including all your brand's highlights and offerings, the animation should be utilized to tell an emotive story that inspires the target audience to visit your website.  Make sure your script has all the points and dialogues that your characters will need.
Storyboard 
Creating a storyboard is among the most crucial steps of brand animated videos. It is the heart and soul of a video production process. Traditionally, a storyboard is created on paper with sketches and graphics, images and illustrations to describe the sequence of every slide of the video.
This helps the video creators to represent the visual elements as imagined. Storyboards describe the entire concept either on paper on digital screen like a mock-up. 
The final result of the animated videos reflects the storyboard with each shot.
Pick the Animation Format
Once you have finalized the video story and ideas, it's time to think about the type of animation you want. As mentioned before, there are various brand animated videos available for a specific brand and its personality. You can pick any of the animated video formats to represent your brand and identify with the buyer's persona, based on your research.
Just make sure you know how to experiment with the type of animation techniques available.
Hire Professionals
If you decide to create and produce the video yourself, there are many online softwares available for most of the production part. However, animation is not something you can do on your own while managing other important business tasks. It is always preferable to invest in the right skills for successful video production and quality.
From pre-production to editing and optimizing, you can get full service from a video production company. Find one that specializes in creating the best animated explainer videos social media videos, and other types of videos for marketing.
Background Music or Voice Overs
Last but not least, adding background music or voice-over to your animated videos is a must. Let's suppose you have created a character that is going to be a part of all your animated videos. To bring that character to life, you will need a compatible voice-over artist who can play the essential role of a narrator. Or, you might need a high-quality should feature to go with the motion graphics. 
Try to set the right mood with each story. Make it as emotive as possible to arouse the emotions of your potential buyers.
Final Words
Animated videos are not as easy as they might seem. It needs hours of creativity and technical work to bring an idea to life. Moreover, the popularity of business animated videos makes it essential to try your hands on these videos.
It can also be a great social media tool for video ads and recall efforts. Go ahead and create stories that bring audiences to your business website.